The team of ELTE Faculty of Law won this year's Telders International Law Moot Court Competition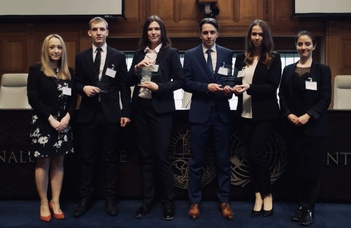 On 25 May 2019 the ELTE team has won the Final Round of the most prestigious European Moot Court competition held in the Hague.
After the success of the Jessup team in April 2019, ELTE University has become the first University in the world winning both prestigeous Moot Court Competitions in the same year.
In previous years, the ELTE team has won individual prizes and was classed among the best teams, but this was the first occasion that the Hungarian team entered the Final Round or was within the best teams with perfect scores. Nevertheless this was the first occasion that a Hungarian team was part of the Telders competition's Finals, celebrating its 42nd anniversary, and won against the team of the University of Leiden, many times winners of the Moot Court.
The members of the Hungarian team were: Dóra Balogh, Dávid Máté, Balázs Scgultz and Franciska Tóth, who have been prepared by dr. Gábor Kajtár LL.M. (Cambridge), dr. Katalin Sulyok LL.M (Harvard), dr. Clio Mordivoglia (clerk at Baker & McKenzie) and dr. Barbara Bazánth (trainee at the European Court of Human Rights).
In the Semi-Finals, the Hungarian team faced the teams of the Netherlands, France, Bulgaria and Turkey. The Hungarian team of Eötvös Loránd University Faculty of Law won the Final Round, thus becoming the first Hungarian team achieving this result. The team also won the Award for the Best Oral Argument for the Respondent, together with the Award for the Best Oralist won by Ms. Franciska Tóth.
The sponsors of the team were: the Hungarian Ministry of Justice, ELTE Talent Support Council, ELTE's Faculty of Law, ELTE Student Association and the Ignác Frank Foundation.
Telders International Moot Court Competition was organized for the 42nd time in The Hague, in the Peace Palace of the building of the International Court of Justice. The aim of the Telders Competition is to prolong the legacy of Professor dr. Benjamin Marius Telders, who became a professor of international law at Leiden University in 1937. Telders was keenly interested in why and how law operated. Being in many respects still undefined and interwoven with history and politics, international law was an excellent challenge. Professor Telders was respected for his sharp mind and had the honour to represent his country frequently, including before the Permanent Court of International Justice. Even during the Second World War, Telders stood up for his belief in the rule of law and civil society and, as a result was sent to the concentration camp at Bergen Belsen, where he later died in 1945. (Telders Moot Court homepage)
Gallery
Gallery