Armin von Bogdandy delivered his public lecture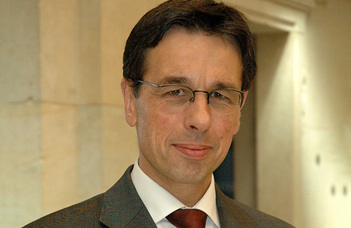 Armin von Bogdandy, on the occasion of his inauguration as a honorary professor of Eötvös Loránd University, Faculty of Law delivered a lecture on "Our European Society and its conference on the Future of Europe" in Aula Magna on 22 September 2021.
His starting point was the decision of the peoples of Europe to live together in a democratic, European society within a common legal framework. For the latter, the most important is Article 2 of the Treaty on European Union (TEU) which, beyond proclaiming the basic European values on which the European Union is founded, refers to one European society in a singular form. The enshrined values of Art 2 TEU are the basis of the European - and specifically European – society which is not equivalent to a European federal state or a European nation but refers to an interacting system of the Member States and the Union. Society is based on communication and dispute settlement, and in Europe, these are connected to and shaped by Article 2 TEU. In other words, the European society is embodied in the constitutional principles of Article 2 TEU, in which the function of the law is even more defining. Thus, lawyers have a vital role in shaping and preserving this legal framework. However, these are not just abstract notions. Surveys, including Eurobarometer, show that the peoples of Europe are aware of their affiliation to the Union as its citizens. It is even more so since in Europe, most of the debates do not remain within the national frameworks but they are taking place on the European level. Thus, they shall be kept within the framework of the European constitutional system, based on the European values. Referring to the Conference on the Future of Europe, Armin von Bogdandy emphasized that the European society had overcome all major challenges in the last 60 years which fact provides us with a reason for optimism for the future.