French language moot court in frame of the BIP programme took place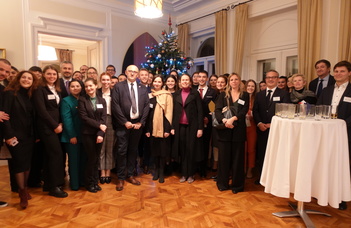 Between 5 and 9 December, the first BIP (blended intensive programme) project of our faculty took place with great success, in cooperation with the University of Poitiers, the Catholic University of Lyon, the University of Groningen, the University of Bucharest and the University of Thessaloniki.
Initiated by ELTE and organised since 2016 in cooperation with the French Embassy and the French Institute, the BIP was built around a French-language moot court, where students could follow online the preparation classes in French of their peers for a semester, and then participate in a week-long professional programme in Budapest, which ended with the moot court competition.
Eve Pol was in charge of teaching and coaching on behalf of our faculty. The winner in the French native speaker category was Hugo Saupic, student of the University of Poitiers, the winner in the non-native French speaker category was, Clara Alexander, student of the University of Groningen, and the best team was the Greek team. The awards were presented by the French Ambassador Madame Claire Legras at the French Residence in Budapest.
Photos from the event
Photos from the event