Library of the Faculty – General information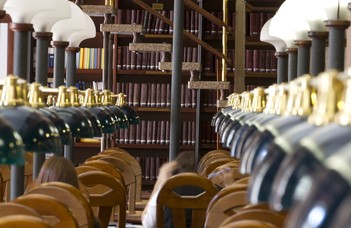 Budapest, Egyetem tér 1-3. H-1053
Phone: 36-1-411-6505
E-mail: jogikonyvtar@ajk.elte.hu
Homepage: http://www.ajk.elte.hu/en/library
Metro: M2, M3
Bus: 5,7,8,9,15,107,110,112,133,178,233,239
Trolley-bus: 83
By Bubi bicycle: Károlyi street
By boat: Petőfi Square (Elisabeth Bridge)
Opening hours
In term-period
Monday-Thursday: 9 a.m. - 7 p.m.
Friday, Saturday: 9 a.m. - 4 p.m.
In exam-period
Monday-Friday: 9 a.m. - 7 p.m.
Saturday: 9 a.m.- 4 p.m.
Closed:
On Sundays, holidays and during the summer period.
Information for new visitors
The Faculty of Law Library is public: admission is free for all adult users, although registration required (passport and/or student ID number.)
The library does not offer lending services to visitors.
Catalogues
Traditional processing has ceased in the Library in 1998, card catalogues in the catalogue room and on the gallery have been closed. Data on issues procured after 1999 are available in our internet catalogue Joint database of Libraries of the university library network is the ALEPH System.
The catalogue of the ELTE Library can be accessed here.
Databases
Databases subscribed by the Faculty
Databases subscribed by the ELTE
IT
Copies of Library documents can be made with the scanning machine. The service is free, but own USB card is recommended.
38 computers are available for visitors in the library. They are all connected into the internet network.
2 computers, situated in the reading room, are used for searching in the ELTE library catalogue.
Personal electronic devices can be used free of charge. (There are plugs under each desk.)
Wi-Fi: online registration required (your law faculty NEPTUN code required)
Rules of use
Please leave your coat and bag in the free outer cloakroom and leave your entrance card at the library porter. All seats are available in the reading room.
The use of mobile phones and loud speech is strictly forbidden in the whole Library. Food and drinks are not allowed in the reading room (except water), they can be left on the table beside the entrance.
The security gate in the corridor near the entrance helps collection protection.
Get direct help from our librarians: jogikonyvtar@ajk.elte.hu
Reading room, information: +36-1-411-6500 /3170; +36-1-411-6500 /3166