Faculty
A Brief History of the Faculty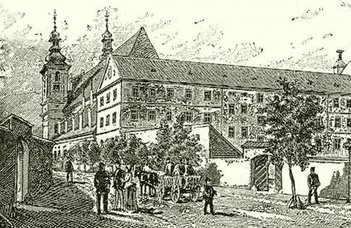 It was a milestone in the history of the University when in 1667 the combined estates of Imre Lósy and György Lippay, both of them cardinals and archbishops of Esztergom, were used to found the Faculty of Law. Alongside canon law and Roman law, emphasis was placed on teaching Hungarian substantive law and procedural law. Tenets of jus commune were taught expressly to rectify the shortcomings and crudeness of domestic jurisprudence at the time. The teaching of Hungarian law began in 1672 at two departments. The subject of the theory of Hungarian law included Hungarian substantive law and the practice of Hungarian law included the law of legislation. Until the Ratio Educationis was issued (1777), tuition took place at five departments: the Department of Roman Law, the Department of Canon Law (both of them operated right from the beginning), two departments where Hungarian law was taught and the Department of Natural Law.
A new curriculum was introduced in the wake of the Ratio Educationis. In addition to the tenured instructors, so-called extraordinary instructors could be hired to ensure the teaching of new subjects. The instructor of Roman law had to teach criminal law as well; and the instructor of Hungarian law had to teach, among other things, statistics about the countries of Europe and principles of Hungarian public law. Efforts were made to establish a department of the history of Hungarian law but Empress Maria Theresa refused permission.
With time the assortment of subjects multiplied. The majority of the new subjects were proposed by the Court in Vienna but the study of Hungarian law and the history of Hungarian law also developed with some delay. There was no direct correspondence between the number of subjects and departments as some professors taught three or even four subjects. Once a subject managed to gather a strong following, the related department was soon to be set up. By the twentieth century it had become established practice that programmes taught as majors had a department of their own in all cases.
Today the Faculty has 19 departments, the Institute of Political Sciences plus the department of foreign languages. The Faculty of Law and Political Sciences trains Juris Doctors and a relatively smaller number of political scientists and public administrators.